Marina Ferrar is an ethnically ambiguous, aggressive, tall and gorgeous woman. She owns and operates a coffee shop. She looks white and sounds European, based on her indistinguishable accent, but the viewer is never presented with any clear information on what her ethnicity is. Marina begins the show in an open relationship with a woman who supports her financially. Her partner is extremely distant from the show and only shown in a few episodes. Marina has a short relationship with Jenny. We later find out, after she has already left the show, that Marina is married to a man; this, along with her attempted suicide and institutionalization, is used to explain the quick departure of the actress playing her.
Marina returns to the show as a guest star in the fourth season, stirring up trouble for Jenny then disappearing. It is unclear whether she will be a fixture or not in the new season.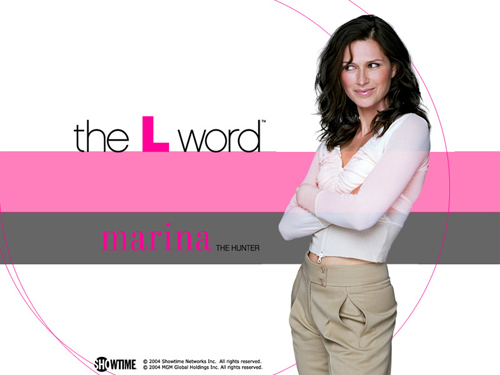 (The L Word on Showtime – Get the Newest L Word Downloads and more)

Marina was only a main character on the first season of the show, and thus only has the one image. She is labeled, by Showtime, as "the hunter" (above). In a group of queer women, this is not an unrealistic label for someone to have, but when looking at all that makes up her character, compared to the other women, this could be problematic. It reinforces The L Word's stereotype of foreigners (Europeans specifically or, it seems, anyone on the show who varies from the "average" white, American woman) as more aggressive (see also Helena).